HOTEL KIMPTON ST HONORE PARIS
Responsible Author: Ruby BIRD & Yasmina BEDDOU (Journalists/Directors) | PARIS - CALIFORNIA, 11/27/2022, 09:48 Time
USPA NEWS -
Thanksgiving is a Federal Holiday in the United States celebrated on the fourth Thursday of November. It originated as a Day of Thanksgiving and Harvest Festival, with the Theme of the Holiday revolving around Giving Thanks and the Centerpiece of Thanksgiving Celebrations remaining a Thanksgiving Dinner. The Dinner traditionally consists of Foods and Dishes Indigenous to the Americas, namely Turkey, Potatoes, Stuffing, Squash, Corn, Brussels sprouts, Green Beans, Cranberries, and Pumpkin Pie... On Thanksgiving Day, Families and Friends usually gather for a Large Meal or Dinner. Consequently, the Thanksgiving Holiday Weekend is one of the Busiest Travel Periods of the Year...
CHECKING OUT BUSINESS SECTOR EVENT
Responsible Author: Ruby BIRD & Yasmina BEDDOU (Journalists/Directors) | PARIS, 11/20/2022, 09:28 Time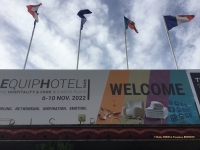 USPA NEWS -
This year' Event, "Conscious Hospitality" was the Central Theme for EquipHotel. Local and Regional Products and Experiences, "Slow Tech", "Slow Living", Energy Conservation and Soft Mobility have become central to the Hospitality Industry, as have Employer Attractiveness, Team Spirit, Inclusion and Employee Retention, all of which are Key to a Hotel or Restaurant Business. In the end, "Conscious Hospitality" is about creating "Living Spaces", where People come to sleep, have Lunch or Dinner, but also to Work, Recharge their Batteries, and Immerse Themselves in the Local Culture or Environment.
| | |
| --- | --- |
| | RAHMA-SOPHIA RACHDI |
| | Daren Frankish |
| | Ruby BIRD |
| | Yasmina BEDDOU |
| | Aurangzeb Akbar |